High Tide of Empire
A Scenario for Wavell's War
High Tide of Empire is a Europa scenario for Wavell's War. It covers the brief Italian campaign in mid-1940 that seized British Somaliland from the small Allied garrison there. It represents the first and last campaign in World War II that Italy won without German assistance and thus in many ways marks the high tide of Mussolini's "New Roman Empire".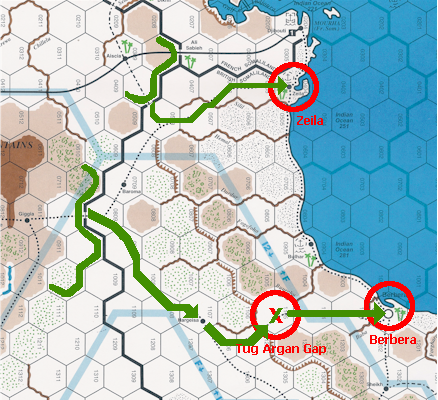 Grande Fantasia Imperiale
A Scenario for Wavell's War
The Grande Fantasia Imperiale is a "historical-hypothetical" scenario exploring whether, with just a few reasonable changes in policy and preparations, Italy could have wrested north-eastern Africa and the Near East from Great Britain in 1940-41. Italy's big chance came in the spring of 1940, with France defeated and Britain's army abandoning its modern equipment in the Dunkirk evacuation. Since Britain had begun rearming for war late, British industry needed considerable time to replace these losses. Britain itself also faced a fight for survival, as the Luftwaffe soon attacked Britain in preparation for a German amphibious invasion of the country. Never again during the war would Britain be as weak.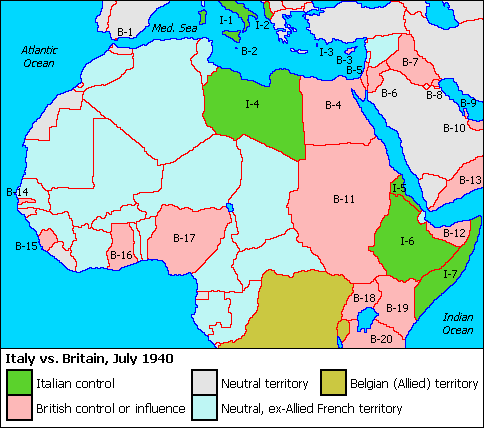 The Carmel Plan
Adding the Carmel Plan to War in the Desert and Wavell's War
If the Germans had succeeded in defeating the British at El Alamein in 1942, the British might have been forced to withdraw from Egypt, Palestine, and nearby lands, leaving the 450,000 Jewish inhabitants of the British mandate of Palestine to their fates at the hands of the Nazis. The Carmel Plan was the Jewish plan to try to protect the Jews in Palestine from the Germans. This article, The Carmel Plan, covers the historical and geographical setting of the Carmel Plan and provides a set of house rules to add it to the Europa games, War in the Desert and Wavell's War.