Welcome to Classic Europa!
Classic Europa is an entirely unofficial, fan-based celebration of the classic Europa games published by Game Designers' Workshop (GDW) and Game Research/Design (GRD), from 1972-2000, plus selected honorary Classic Europa games.
Classic Europa also features a Classic Europa Group on Yahoo Groups for the discussion of Classic Europa topics, as well as articles, scenarios, designer's notes, and more on this website.
Dedication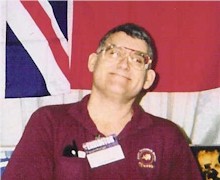 This site is dedicated to the memory of Winston Hamilton. Winston was a key supporter and promoter of the Europa series, and his company, Game Research/Design, published many of the Classic Europa titles. Winston unexpectedly passed away in the year 2000, and his many friends and many fellow Europa players miss and mourn him.
See Classic's tribute to Winston on the Legion of Honor page. The Europa Legion of Honor is an unofficial tribute to many people who made contributions to Europa. Be sure to pay homage to the system's founders, Rich Banner and Frank Chadwick, and do not fail to leave an offering to shrine of Winston Hamilton!
Articles and Scenarios

This section contains full-length length articles and scenarios on a variety of topics.
Featured Scenario: Grande Fantasia Imperiale Scenario for Wavell's War
The Grande Fantasia Imperiale Scenario is a "historical-hypothetical" scenario exploring whether, with just a few reasonable changes in policy and preparations, Italy could have wrested north-eastern Africa and the Near East from Great Britain in 1940-41. Italy's big chance came in the spring of 1940, with France defeated and Britain's army abandoning its modern equipment in the Dunkirk evacuation. Since Britain had begun rearming for war late, British industry needed considerable time to replace these losses. Britain itself also faced a fight for survival, as the Luftwaffe soon attacked Britain in preparation for a German amphibious invasion of the country. Never again during the war would Britain be as weak.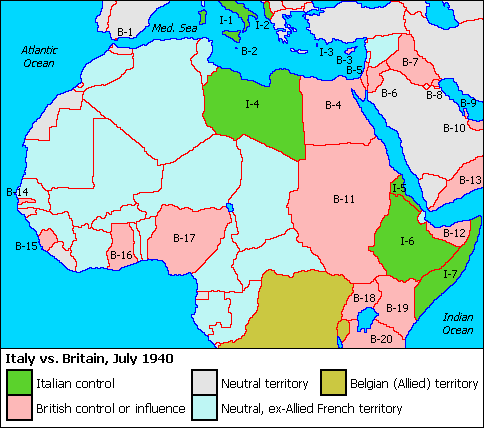 Designer's Notes

Designers' Notes contains notes, comments, and suggestions about various Europa games by the designers of the games. These are a sample of what you can find in the Classic Europa Group.
First to Fight: 2-Week Turns
War in the Desert: Operation Compass, Operation Torch, Q&A
Surprise Offensives
Abandoning Equipment
Fighter Extended Range
Guerrilla Warfare
Iceland
Soviet Combat Corps
Europa Map Projection
and more!
Classic Europa Group

The Classic Europa Group is a Yahoo group celebrating the Classic Europa games. It has a mailing list and downloadable files, including Europa scenarios. The list is meant to be fun for its participants, so postings to the list are moderated to weed out the off-topic items and other unwanted material that unfortunately afflict unmoderated lists.
If you are interested in learning more about the group, including how to request membership, check out the group's guidelines and rules.
Other Sites to See

If you like Classic Europa, try out these other Europa sites:
Rich Velay's Europa Guru Site. Rich was a Europa Rules Guru, and his site contains material on SF, FWTBT, and WOR.
Second Front: Errata and Rulings. Luiz Cláudio Duarte has assembled all the SF errata and rulings he could find. Impressive!
David H. Lippman's World War II +55. David started a WW2 chronology on the 55th anniversary of the start of the war. It's been in e-mail, on the web, and now is a blog. Enjoy!
The Sentry Box.

Gordon Johansen, ace Europa player, owns and manages The Sentry Box, an amazing store "for those interested in fantasy, science fiction, or military games, books and miniatures." If you need an out of print Europa game, check with Gord first!

Jason Long's Sturmvogel and Panzerkeil. Jason has been researching WW2 history with emphasis on Europa for many years.
Generalstab (General Staff). Wolfram N. Broszies' site on Europa, military history, and more. In both English and German.
The Europa WebRing.

The Europa WebRing links to various web sites devoted to or containing information pertaining to Europa.

Cardboard Wars.

This is a blog for After Action Reports, with a replay of GDW's Narvik being featured.

Europa Series Background.

This page, at the Wargaming Academy, is "a detailed collector's overview of the GDW Europa Series, complete with production numbers," compiled by Marc Miller of GDW. (A few of the numbers and dates don't look quite right to me, but Marc compiled this from GDW's records.)
Disclaimers: Europa is a trademark of Paul R. Banner. Classic Europa is an unofficial fan site and mailing list and neither licenses the Europa trademark nor operates with the endorsement or approval of Paul R. Banner. Various Europa materials are copyrights owned by various organizations and or individuals. Classic Europa may make some limited use of these materials for purposes of commentary and criticism, under the fair use provision of US copyright law.